Yes, the weather has turned to wet and miserable, but we can still rejoice at the thought of hot chocolate and biscuits, or whatever treat warms both your belly and your heart. Autumn is almost certainly my favourite season and Jane Porter's gorgeous illustration seemed to perfectly illustrate the joy this time of year summons in me. Don't get me wrong, my kids and I love summer with all the opportunities it offers to spend time outside, but I like the fact that summer is precious because it is short lived.
If you don't feel like braving the rain and wind, or if your kids need to be convinced that autum is a great season, then read them these two lovely stories. The first of these will explain to them why leaves fall, and the second will encourage them to be patient and understanding, so really, what's not be liked?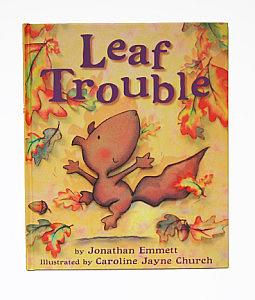 When we picked up Leaf Trouble written by Jonathan Emmett and illustrated by Caroline Jayne Church at the library recently, I wondered why it looked familiar to me. Then once home, I realised that Caroline Jayne Church had made a series of books that my son adored as a baby and toddler whose main character is a fun little puppy called Woof.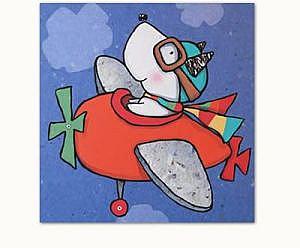 Now in Leaf Trouble there is no dog, but a family of squirrels who lives in an big oak tree. Pip when he realises that the leaves are not only changing colours but also falling from the trees, starts to panic.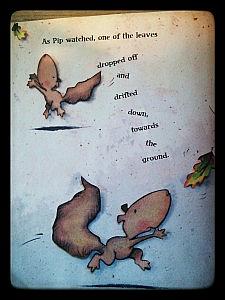 He calls for his sister's help and hopes that they can save the tree which is "falling to pieces". After making a huge pile on the ground, this spontaneous rescue team tries to stick the leaves back on the branches, but of course this fails, and thank goodness their mum arrives and asks them what they're doing!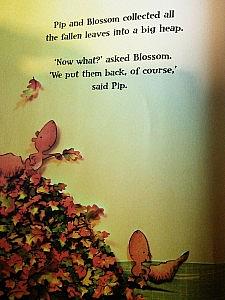 She then explains to them that the tree needs a rest and that when spring comes, the leaves will all come back again.
Relieved to hear this, they play beneath the old oak tree until sunset, collect some leaves to take back to their nest, and watch the gorgeous colours of the sunset which perfectly match the ones on the leaves. Seeing them happy and soaking in the scene contrasts nicely with their frantic panic and makes for a nice ending.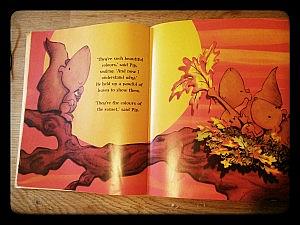 This story gave us a chance to think about the change of season and what happens to trees and animals who live outdoors. If your child has ever wondered why it is that leaves change colour in the fall, read this great post by an expert who has tons of ideas to make this tangible and fun with experiments and activities.
Now for a visual feast you can't really beat the lavishness of Helen Cooper's work. "Deep  in the woods there's an old cabin with pumpkins in the garden. There's a good smell of soup, and at night, with luck, you might see a bagpiping Cat through the window, and a squirrel with a banjo, and a small singing Duck."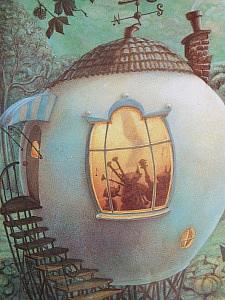 Each of them has a special role in making this yummy soup: Cat slices the pumpkin, Squirrel stirs in the water, and Duck adds the right amount of salt. But one morning Duck wakes up early and decides to borrow Squirrel's special spoon and to become the Head cook. Of course this is not going to work and not only because he is too short. The three friends start squabbling and arguing until Duck walks out, annoyed that no one will let him help.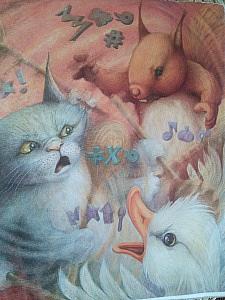 Contrary to what the Cat and the Squirrel thought Duck does not come back for breakfast, not even for lunch. The soup they make is not tasty and they don't feel hungry anyway. So they start to look for him and to worry about where he has gone.
After looking for a long time, they decide to go back home, see some light from a distance, and run to the house where they are finally reunited.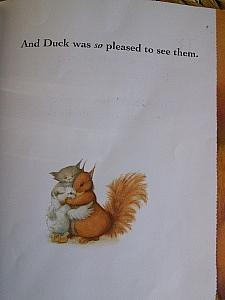 My kids love pumpkin soup and understand all too well falling out with friends, so when the Cat and Squirrel decide to let Duck make the soup for the sake of their friendship, they understand why it is, believe me! And they love the look of the messy kitchen too.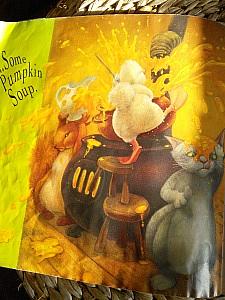 For another visual automnal feast, watch Co Hoedeman's Ludovic who has been a favourite in our house for years. We have a DVD with several of this cute teddy's stories but you can watch Magic in the air on the National Film Board's website for free.
For more activity ideas, have a look at our seasonal pinterest board!
Finally here is some inspiration for those of you who like making yummy snacks together. Look at these maple roast pumpkin seeds or apple pie cups on Weelicious, don't they look nice? I also love improvising with date-nut bites, there's a good recipe here, but feel free to try your own combination. We like date+cocoa+walnut+almond butter, rolled in dessicated coconut to make them a bit less sticky. As long as you've got a good food processor, they are easy and kids love these energy balls.
Just in case you get thirsty, why not try THE drink that says autumn: apple cider, a good old classic which makes the house smell like heaven. Here's a link to a foolproof recipe with an option to make it plain, decadent, or even boozy.