I am a sucker for great reading spaces and this library is a really exciting space which is sure to fill the students of Nelson's Whitefield Infant School and Nursery with joy and trepidation! Just look at these faces, they don't lie. Steve Hutton has done a great job!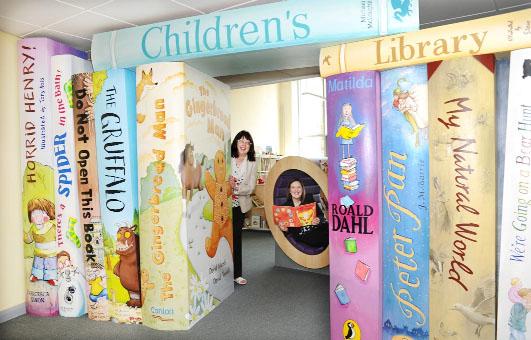 Giant books? Tick. Comfy reading nooks? Tick. Happy staff? Tick. So many school libraries sadly close, or worse get forgotten because budget cuts sometimes mean that the head decides to let the librarian go. This really is a shame since school librarians are unsung heroes of literacy.
This article in the local paper gives details about the new library and the rest of the school. At 7 millions pounds the redevelopment of Whitefield Infant School and Nursery is not cheap, but there is no denying that this is now a great looking school, and surely the envy of many other schools in Lancashire and beyond.