Last week the Guardian as well as other newspapers discussed and celebrated the list of diverse voices established by Seven Stories, the National Centre for Children's Books based in Newcastle. This list includes 50 of the best children's books celebrating cultural diversity in the UK and it certainly reinvigorated a debate that established authors like Malorie Blackman have often engaged in.
Tariq Mehmood who in 2013 won the Frances Lincoln Diverse Voices Children's Book Award for You're Not Proper declared at the time: "I have children who are not white, who read a lot, but they themselves are fictionally invisible. In Diverse Voices, I saw the recognition of the importance of creating a new literary landscape that reflected the world around us, that is blooming with thousands of different flowers, in which children are its scents."
As a reader, I am all for a literary landscape with a variety of flowers and flavours, so I couldn't agree more with Blackman and Mehmood. Take the challenge suggested by the authors of this article in the Guardian for instance and see for yourself: pluck 10 random books  next time you visit your local library and see what sort of leading character you get: chances are apart from animals, you're quite likely to find a white male who lives in the UK or USA, and who has a fairly conventional family structure.
In case you wondered whether this is particular to the UK, read this piece by the late Walter Dean Myers published not that long ago in the New York Times: "Where are the people of colour in children's books?" These discussions had me wondering about our readings, are they diverse enough? What sort of picture of the world do they provide for my children? What insight will they get from them? I want reading to be fun above all, but I also want reading to open my children's eyes and to let them see the world in all its richness and diversity.
There are a few books that we keep on reading in my house that have not made it onto this list and I believe that collectively we can make a much better one, so how about you add to my list here, or write in the comments which book(s) celebrate(s) diversity for you?
The books that I want to share with you today are by Atinuke&Lauren Tobia.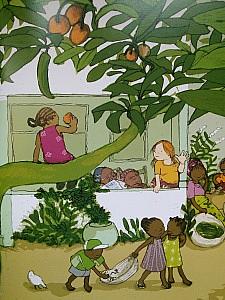 "Anna Hibiscus lives in Africa. Amazing Africa". This opening line is part of all the books of the series. In Anna Hibiscus'Song, a bright and beautiful picture book, we see how Anna loves to spend time in the mango tree as well as with her family. She loves to play with her cousins Chocolate, Angel and Benz, and she loves to dance with her uncle Tunde.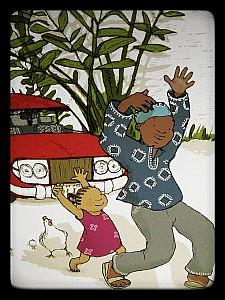 She is so happy that she doesn't know what to do with herself, so she asks for advice to all the members of her family. Each of them comes up with a different answer, but none really satisfies Anna who thinks that she is going to explode, until she climbs back up in the mango tree, sits still, sits quiet, and starts to sing.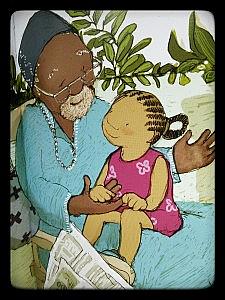 In case you thought I am over-enthusiastic, read the opinion of others, like Jean's, who reviewed the series of Anna Hibiscus books on her great blog Artful Parent. Like me she goes back to these books again and again, as they simply are a joy to read with children say 5 and up. This is why I was delighted when I found out that the author and illustrator had teamed up to make a big picture book that my son and I have been reading regularly since he was three. Having re-read Atinuke's The No. 1 Car Spotter last night, I also think he might be ready now for the adventures of Coca Cola and his best friend the No. 1 Car Spotter.
I have never met Atinuke in the flesh, but I  would love to, seeing how she tells stories. Judge for yourself with this video, and go to your library to read more diverse stories and to learn about others and yourself in the process.
A final little bonus, a video interview where Atinuke discusses her childhood in the UK and Nigeria and her writing of both Anna Hibiscus and the No. 1 Car Spotter.