J'ai une confession à vous faire. J'ai un peu hésité avant d'associer ces deux livres dans un même billet et ce, même si,  tous deux sortent vraiment de l'ordinaire. Et puis vendredi soir, je suis allée voir avec ma fille Quentin Blake et Daniel Maja et ces deux acolytes ont annihilé tous mes doutes. Soyons farfelus, un peu fous, et même bizarres, peu importe!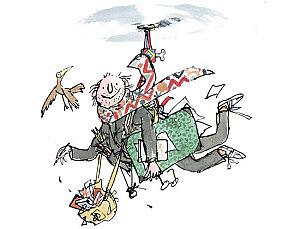 Tant de fantaisie et d'humour à respectivement 81 et 72 ans, vraiment chapeau! Alors pourquoi se retenir et faire dans le conventionel, on aura bien le temps d'être sérieux quand on sera vraiment vieux! Preuve en image que les deux artistes s'en sont donné à coeur joie, voyez par vous même, on s'est régalé et les enfants ont vraiment beaucoup rigolé: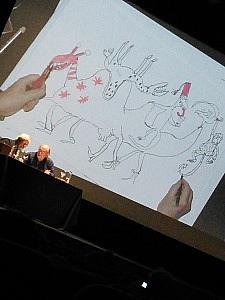 Au pays magique de François David et Éric Battut nous a été offert il y a quelques années mais nous aimons le relire régulièrement. Avant de recevoir ce magnifique album, nous connaissions déjà quelques uns des livres de Battut dont La Noisette, Deux amis pour la vie (une histoire de bagarre et d'amitié entre un éléphant et un escargot), et Le petit chasseur de bruit, mais nous n'avions jamais vu son travail à la gouache et il en vaut vraiment la peine.
Le format de cet album ne pourrait pas être plus simple avec un texte court, généralement une phrase sur la page de gauche et une illustration grand format sur celle de droite. Ce qui rend le livre inhabituel et si attachant, ce sont les attributs du pays magique. "Au pays magique, les arbres aiment se promener sur les nuages comme sur des tapis volants, les chèvres galopent dans le ciel avec des bottes de 7 lieues, et en haut des montagnes on peut boire le soleil à la paille comme un gros jus d'orange."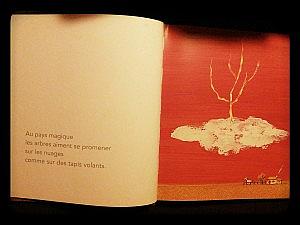 Mon fils aime chercher à voir les petits détails de chaque planche, et l'humour de certaines pages. Dans ce pays magique, il y a de bien belles choses comme des nuages roses pour protèger les amoureux, et des guirlandes tissées par les avions. Il y a aussi des choses plus incongrues comme des renards et des chiens qui sont copains, et des mouettes qui prennent des douches sous les jets d'eau des baleines.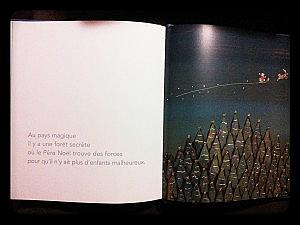 Pour certains, la conclusion semblera peut être trop terre à terre ou sombre. Moi j'y vois une façon de revenir une fois la fantaisie installée au quotidien puiqu'au "pays magique il y a une forêt secrète où le Père Noël trouve des forces pour qu'il n'y ait plus d'enfants malheureux". Certes cette conclusion génère de temps en temps des conversations un peu ardues mais parfois c'est le reste du livre et ses jolies fantaisies qui accrochent l'attention de mes enfants. Je pense que la beauté des illustrations et le texte plein de poésie et d'inventivité vaut bien le risque de discuter d'un sujet sensible, qui est tout à fait compréhensible, même si je l'espère assez abstrait pour vos enfants.
Après avoir lu Au Pays magique, pourquoi ne pas leur demander à quoi ressemblerait leur pays magique? Voici la magnifique version de d'un groupe d'élèves de primaire. Je l'ai dénichée sur le sîte de Julie, une enseignante québécoise, qui avec d'autres met en commun plein de ressources.
Et si vous pensez que ce pays magique n'est pas pour vous, essayez un autre livre de Battut comme Entre chien et chat dont Télérama dit le plus grand bien ici.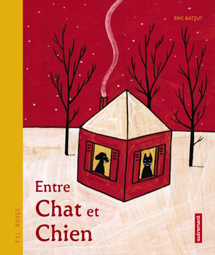 Pour compléter ce parcours (partiel) de nos lectures loufoques, je vous propose un autre livre: La planète bizarre de Voutch qui a un ton tout aussi décalé que le précédent mais assez différent.
C'est un livre petit format (il tient dans ma main et elle n'est pas grande), cartonné, très coloré, d'environ une dizaines de pages. Lui aussi décrit les particularités d'une planète bizarre où "les chats pondent des oeufs, où parfois il pleut des saucisses, et où toutes les mamans ont de grandes moustaches".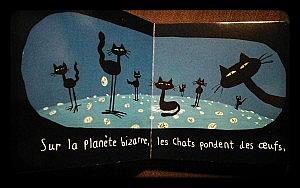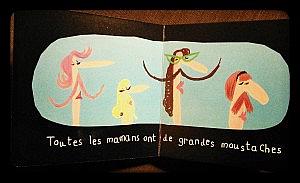 Je suis sûre qu'au graphisme vous aurez déjà deviné que le ton de La planète bizarre est plus comique et extravangant que poétique. Mon fils adore le côté loufoque et incroyable de cette planète où on donne aux enfants qui font des bêtises des gâteaux aux fraises.  La planète bizarre n'est pas mon titre préféré de cette collection (dont je reparlerai sous peu) mais la concurrence est rude et comme mes enfants l'aiment beaucoup, il était normal que je le présente dans ce billet.
Pour conclure sur une touche rigolote, je vous propose la comptine française des 3 éléphants, tout à fait improbable mais adorable. On aime la chanter en se tenant les mains même si nous ne sommes que deux ou trois, et se jetter joyeusement les fesses par terre au badaboum final de chaque couplet! A vous de voir…
ΩΩΩΩΩΩΩΩΩΩΩΩ The English corner ΩΩΩΩΩΩΩΩΩΩΩΩΩ
Today I decided that it would be nice for me to introduce you to two bonkers books. The first Au pays magique is by François David and Éric Battut. It describes a magical country where trees like to walk on the clouds, where scarecrows don't scare anyone, and where snowmen never melt. The delicate details of the illustrations, the incongruous descriptions, and unusual associations make this book one of a kind.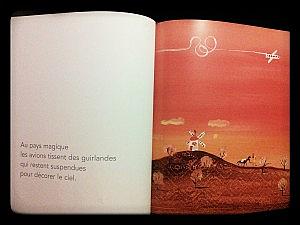 Reading it is with children is a great experience as their imagination has no bounds and they will suggest more ways to describe this magical country. I have on occasions wondered how many of these attributes where actually inspired by kids' words, since my daughter, when she was three, did ask me how planes managed to pull huge tinsels behind them.
My second suggestion is different in tone as it is less poetic and funnier. Voutch does satirical illustrations in magazines in France, and I think some of his deadpan humour filters through his books for children.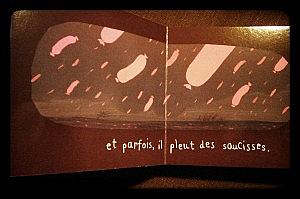 On this bizarre planet, it does not rain cats and dogs but sausages, and naughty children are given strawberry cakes they need to protect because of hungry flying dogs!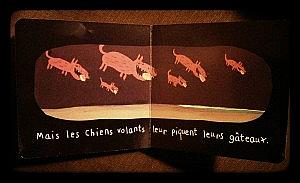 The conclusion left to a little boy who  says he will never visit such a place is unexpected, but in line with the rest of the book. It gives you a chance to chat about the places you might want to visit one day, and the surprises that might await.
To conclude joyfully, I have made a selection of songs that are not for children but that we like to listen to, and which are just a little bit bonkers. Here is a fun (non official) video for one of Émilie Loizeau's songs, a French (yet bilingual) singer who has a tendency to make lovely yet slightly crazy songs.
And if you'd rather listen to one of her songs in English, have a listen at Madame Coconut. Enjoy!