No, this blog has not turned into a political forum which hopes to to debate the virtues or monarchy. What interests me today is the figure of the Queen that I've seen popping up in a couple of books that we particularly enjoy reading at the moment.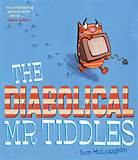 I can't take credit for this first book by Tom McLaughin which tells the lovely story of Harry and the cat he gets for his birthday Mr Tiddles. My son who likes to romp about in the park after school introduced me to The Diabolical Mr Tiddles a couple of weeks ago. He ran to the display shelf at the library, picked it up, ran back to me, and said with a big mischievous grin on his face "Mum, my teacher read this to us last year, I love it, can we read it again?". How could I not oblige him? And of course we took it home and read it quite a few times since.
After Harry's dream to get a cat comes true, he does all he can to make him as happy as a cat can be. They watch TV and play video games together and slurp yummy looking milkshakes.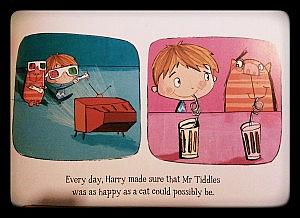 Harry even strokes Mr Tiddles's tummy until he drifts into a dreamy sleep at night. This seems like paradise, but like any honey moon, this period of bliss eventually comes to an end. On the day Mr Tiddles decides to show his love by bringing Harry a nice fresh mouse, Harry unsurprisingly turns a funny colour.
Mr Tiddles, who is not the kind of cat to let this mishap deter him, decides to get something else for Harry. This time he brings him his favourite treat: a triple chocolate cream-and-custard cake with extra banana jam. Who could possibly resist this? The trouble is that after that, every morning Harry wakes up to find more and more outrageously lavish gifts. Yummy jelly beans, a pogo stick, an electric guitar, a giant train set, the list goes on and on until one day he finds a horse in his bedroom!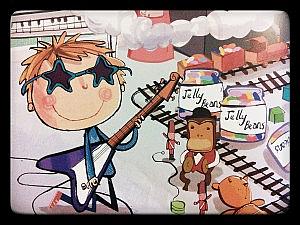 Harry who is both delighted and puzzled by this endlessly growing collection of things decides one night that he will follow Mr Tiddles to see where all these presents come from. And guess where he ends up?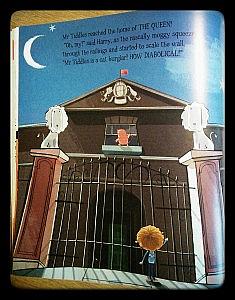 That's right, the rascally moggy has decided to burgle the Queen's palace! But the minute Mr Tiddles lays his paw on her Majesty's crown, Harry shouts "Stop!". Needless to say the Queen is not amused and asks her guards "to arrest these two intruders for Acts of Cheekiness Against the Crown."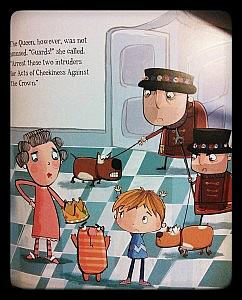 Harry then pleads his friend's cause and explains that he's only been taking things because he cares about him so much. Her Majesty looks at Mr Tiddles long and hard and she tells him that it is wrong to steal. She can see that he has learned his lesson and decides that she will forget about it as long as he returns all the things he has taken to their original owners. When the two friends are finished, they share a big hug and agree that having each other is the best present ever.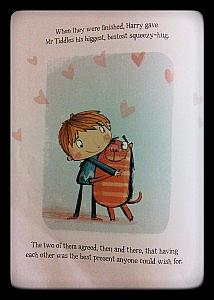 The Queen's forgiveness and the moral lesson she teaches Mr Tiddles are valuable. But what I like most is the ending which shows that love and affection is worth much more that material possessions. My children were wowed by the various presents that Harry got, but they agreed it was much more fun to spend time together, having a lovely picnic, with no external distraction. And because Christmas is just around the corner, I am happy to find subtle reminders that things don't necessarily bring you long term happiness.
Now The Queen's Hat by Steve Antony is a different  kettle of fish. We went to a reading of his during half term and have been practicing drawing corgis, butlers and pandas steadily since.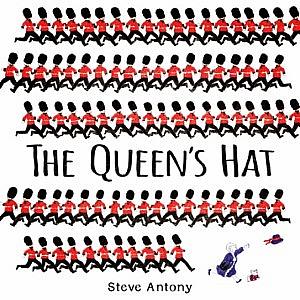 Bear with me if the panda does not make sense yet. The Queen's Hat is a gorgeous picture book that can be read to toddlers, but that will also has appeal to older kids. The Queen who is on her way to visit someone very special, sees her hat flying away: SWISH! Breaking protocol, she and her guards start running after the lost hat which gets swept to Trafalgar Square, and all through London Zoo, and all along the Underground. The hat does not stop there and carries on all the way to the top of Big Ben.

The fantastically detailed and fun pictures of these well known sights covered by swarms of red and black guards, the option to 'spot the corgi or Queen', and the fantastic floating umbrellas that bring them all to Kensington Palace are gorgeous eye candies.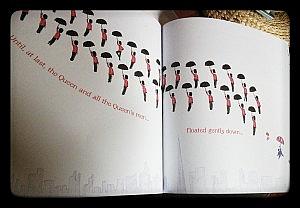 And what better end to a story than a happy baby, the one she was going to visit, her grandson (presumably).
This is a great book to read before a visit to any of London's attractions and sights, or to offer to visitors regardless of their mother tongue since the text is easily translated. We love the guards's shiny jackets on the cover, the fun ending, and the details of every single double page.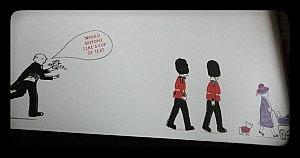 If you want to learn how to draw a corgi, just start with a sausage and visit this page.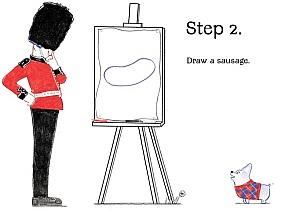 Now for the panda reference. Steve has a new book coming out in January about manners, doughnuts, and pandas, a joyous combination don't you think? He kindly read it after the Queen's Hat and showed the kids how to draw a panda. FYI: the event we attended took place at Tales on Moon Lane, a great independent bookshop in Herne Hill (south London) specialising in children's books.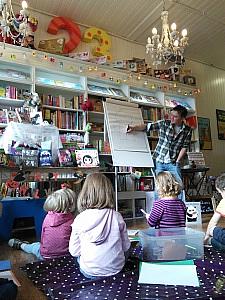 Now I won't suggest you try to make the impressive triple chocolate cream-and-custard cake with extra banana jam as a follow up activity, but why not try these simple, tried and tested banana boats? They are yummy, easy and fairly quick too. In this house we like peanut butter, chocolate and dessicated coconut, but you could try any combination you like, by just following these instructions.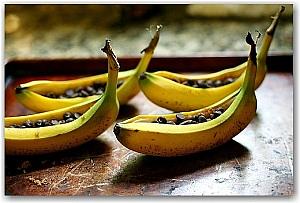 Finally if you need a little bit of silliness after the seriousness of monarchy, then have a look at this classic camp song which includes bananas, corn, potatoes and apples. Have fun!