Chez nous, il y a des auteurs comme Emily Gravett, Taro Gomi, Émile Jadoul, Jeanne Ashbé, et Ludovic Flamant qu'on ne se lasse jamais de lire. Même ma grande (qui a 8 ans) aime revenir à ces classiques surtout lorsque nous avons de jeunes visiteurs à qui elle peut faire la lecture.
C'est suite à une de ces récentes visites que je me suis dis qu'il serait temps d'ajouter quelques suggestions pour les plus jeunes. Et qui  choisir d'autre que Jadoul et Flamant?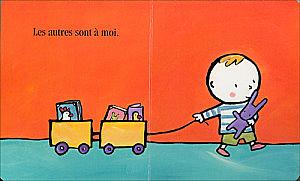 Des livres plein la maison est un petit album cartonné et coloré qui fait l'inventaire de tous les livres dans la maison d'un petit garçon, de ceux sans images pour papa et maman aux autres qui lui appartiennent. Le texte rime comme celui d'une comptine, les illustrations sont à la fois charmantes et drôles et les usages détournés que ce petit héros propose aux lecteurs montrent à quel point l'imagination des adultes peut être limitée.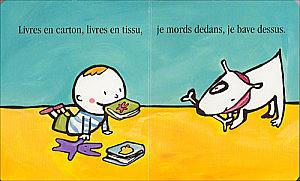 Les autres titres de cette collection sont dans la même veine et peuvent être lus au bébés sans problème. Alors si Des livres plein la maison vous tape dans l'oeil, essayez La soupe aux miettes par le même talentueux duo qui raconte comment préparer une délicieuse soupe aux miettes jusqu'à ce que maman s'en mèle biensûr.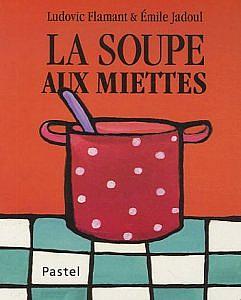 Dans ce billet, Élise vous conseille aussi On ne joue pas avec la nourriture parmi un florilège de livres qui aident à désamorcer les conflits autour des repas. Bref, vous avez le choix!
Pour finir, voilà un album tout court et tout tendre qui aide bien avec les petites angoisses liées au moment du coucher. Dans Bonne nuit, ma cocotte, maman poule, comme chaque soir, met cocotte au lit en lui faisant un gros bécot.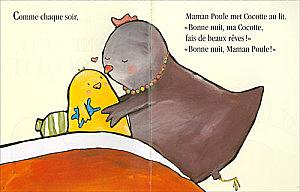 Mais cocotte n'est pas rassurée, sa maman n'a t-elle pas mis son beau collier pour sortir? Est-elle encore là même si on ne l'entend pas? Que sont ces bruits bizarres, et pourquoi fait-il si noir ce soir? Tenant Lapinou, son doudou, bien serré contre elle, Cocotte questionne encore et encore, et appelle maman poule qui a, je dois dire, la patience d'une sainte et qui jamais ne se démonte.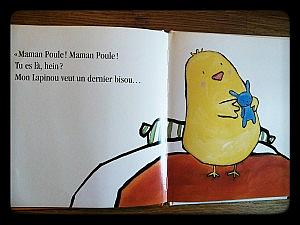 Pour les parents, l'heure du coucher c'est souvent le signal d'un peu de liberté retrouvée. On peut lire quelques pages tranquille sans interruption, siroter une boisson chaude sans devoir faire attention où on la pose, et même passer 5 minutes seul(e) dans la salle de bain!  Alors cet album qui met l'accent sur les petites angoisses des petits est un excellent rappel que ce qui nous semble parfois bénin ou trivial peut en fait avoir un impact beaucoup plus important qu'on ne le croit. Au final, cinq minutes de plus ou de moins, un bisou ou deux de plus, quelle affaire, ça ne nous demande pas un grand effort supplémentaire!
Si l'heure du coucher vous cause des soucis, pourquoi ne pas essayer de désamorcer la situation en l'apprivoisant plus tôt dans la journée? Il y a quelques années, on nous a offert le jeu Bisous Dodo, très sympa et simplissime. On l'a un peu mis de côté depuis, mais je suis sûre que si nous le ressortions, il aurait grand succès. Martine y consacre une rubrique qui vous explique tout dessus, c'est par là.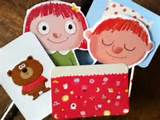 Si vous êtes bricoleur ou bricoleuse, regardez les magnifiques marionnettes en feutrine faites par les bibliothécaires de St Brieuc pour la visite de Jadoul. Elles sont superbes mais ne semblent pas très compliquées à reproduire.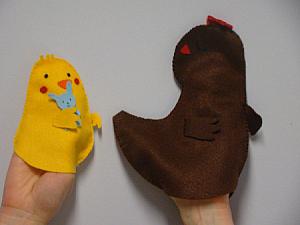 Si vous ne vous sentez pas d'humeur, laissez donc vos têtes blondes s'y coller, avec des assiettes en papier, un peu de colle, de peinture, on peut faire des poulettes très convaincantes avec un tuto ici.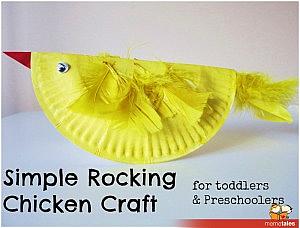 Pour finir si vos enfants sont fans de poules et de poussins, quelques titres à la volée que nous aimons et qui pourraient leur plaire:
Le Poussin de Kimiko
Toute la série des P'tites Poules de deux Christians Jolibois et Heinrich pour les 3 ans et plus
Bébé Poussin d'Emily Bolam avec un super mini livre dans le livre que mes enfants a-do-raient.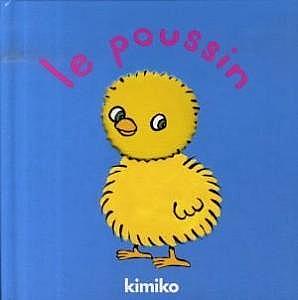 ΩΩΩΩΩΩΩΩΩΩΩΩ The English corner ΩΩΩΩΩΩΩΩΩΩΩΩΩ
Émile Jadoul is a Belgian author and illustrator and I have come across quite a few of his books translated in English. Ludovic Flamant collaborated with him on several titles for very young readers. The two books I want to recommend today are great for babies and toddlers.
In the first Des livres plein la maison, we're taken on a jolly tour of a house by a little boy and his dog. He shows us around and tells us about his books as well as his parents's. I read this countless times with my daughter when she was a baby, because it is short, colourful and fun. It looks at books as reading tools but also as potential toys, building blocks, and even dens!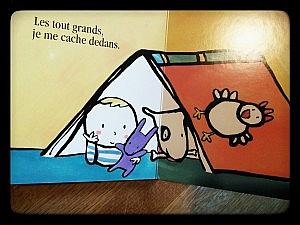 This is a real celebration of books as material objects that need to be manipulated, played with, and not overly protected. We've always been quite relaxed about how books should be handled in our house. Apart from torn pages, there's no 'no-no' really. We had quite a few books in plastic for the bath or for taking with us, and a smaller collection of lovely fabric ones that were great to play with. So of course Flamant and Jadoul's playful approach is one that we endorse.
Bonne nuit, ma cocotte! although slightly longer is just as great for very young children. A little chick keeps calling her mother, finding funny excuses to make sure she does not leave her too soon. The book goes through a list of all the usual suspects: "the room's too dark, my teddy needs a wee (and me too), what's that scary noise? can I have a last kiss good night?"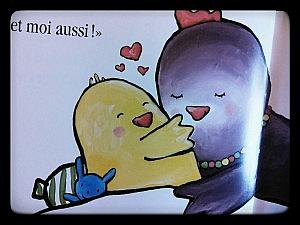 Mother hen's patience is really impressive and may be something you aspire to. I remember reading this book during the day so that we'd get a chance to discuss bedtime and its routine before it happened. Maybe because we always read a story and spend a good few minutes cuddling and kissing, before turning the lights off, my kids have rarely made a big fuss about bedtime. But of course I know this is not the case for everyone. So if you are looking for additional bedtime related reads, go and read this post I wrote a while ago and good luck for tonight!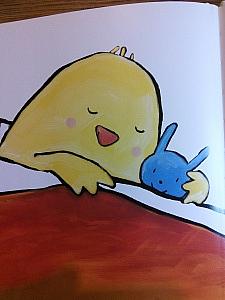 .