After seeing Larry fly in a gorgeous and shiny looking rocket in The Secret Life of Suitcases at the Unicorn theatre, we had a good look at our shelves and re-read many of the books  we have about space and rockets.  It then occurred to me that it would be fun to select our top five picture books about space and-or aliens. I won't be doing a detailed review for each of the titles we selected, but I will tell you why the kids and I like each of them in particular. And of course I will point you in the direction of other writers who may have reviewed them on their blogs, because isn't sharing the love of books as well as recommendations the objective of this blog?!
*Lerry Korda's Little Nye is an adorable and resourceful character who likes nothing more than playing with bits and bobs and building things. After asking questions about space to his bookish friend Lester, he starts building a rocket with pots and pans. My 4 year old son loves all of little Nye's friends: Nella, Grace and Lester, and he finds Little Nye's stubborn clumsiness very funny! The character's determination, the book's bright colours and the happy ending with cupcakes adds to the magic of their imaginary trip to space. After all, why should you simply build a den when you can go for a rocket?!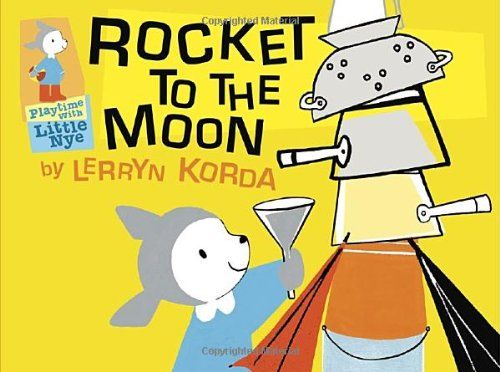 If building a rocket is not your thing, and you much prefer the idea of cupcakes, you should try Nathasha's lemon muffin recipe inspired by Korda's book. They look yummy and would make a lovely tie-in activity.
*Simon Bartram's Man on the Moon describes Bob's daily routine. The wonderfully detailed and lush illustrations are a real pleasure and Bob's obsession with perfection is fun to watch. He has an extraordinary job since everyday he is the one who keeps the moon nice and tidy, and  needs to make sure that tourists have a great experience. The only problem with Bob is his denial that aliens exist. This is, you will have guessed, the book's most comical aspect, as on many pages you can play 'spot the alien'. Bartram has made several other books with the same character, so if your child is sold on Bob, give the others a try.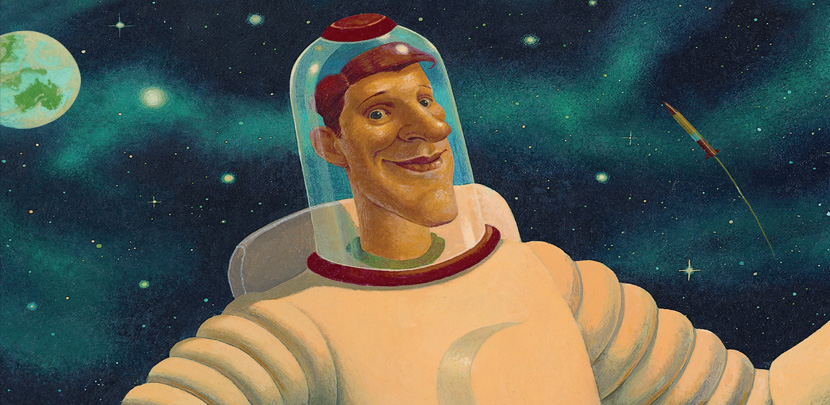 *Both my children love Oliver Jeffers's books and The way Back Home is no exception.  A  little boy decides to take a plane he'd forgotten about for a spin, but he unfortunately runs out of petrol and ends up all alone and afraid on the moon. Soon he is joined by a martian whose spaceship has also decided to stop working. So they decide to join forces and design a plan to fix their machines. The plan involves going back to earth and getting the right spanner and petrol. Once their machines are back to normal, they decide to go home, but keep wondering whether they will ever meet again. As usual with Jeffers, the images are both poetic and charming, and the characters very sweet.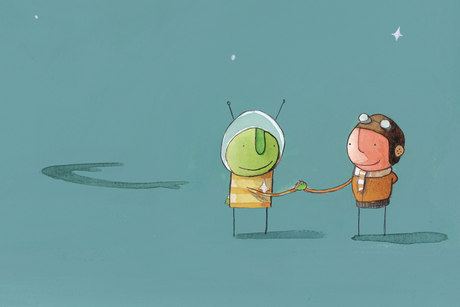 There is no rocket in this book but if you are crafty, you could try to make lovely finger puppets like these? How cool are they?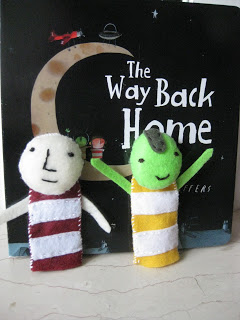 Now our last two favourites both involve silliness and aliens. They are Colin McNaughton's Here Come the Aliens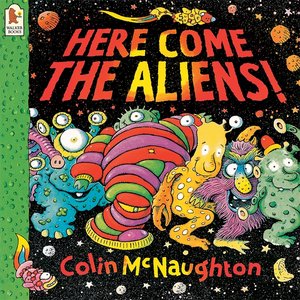 and Aliens Love Underpants by Claire Freedman and Ben Cort. Both these books include aliens of all shapes and sizes, some scary, some silly. The details of their anatomy and their fashion sense are often outrageous but also hilarious!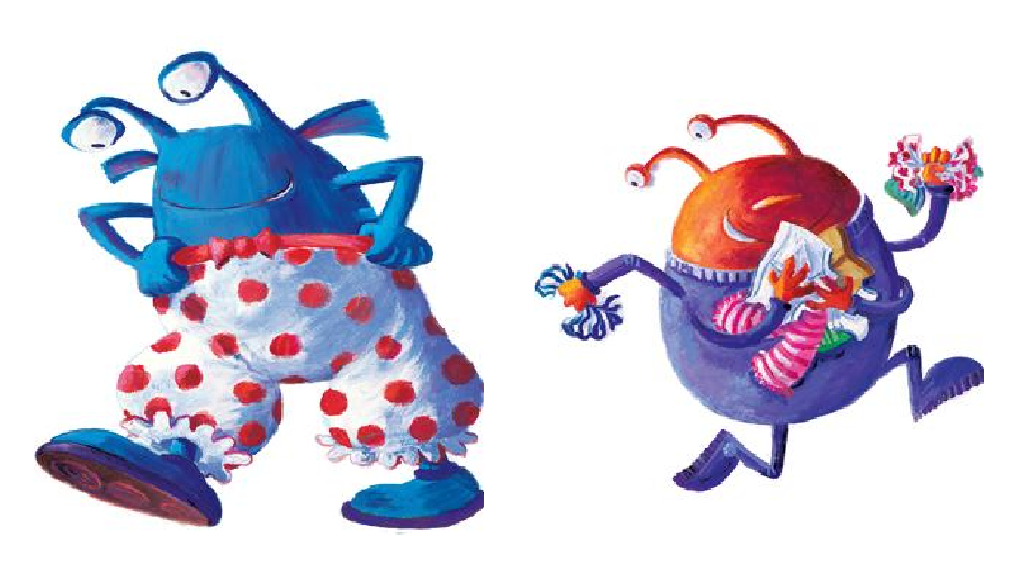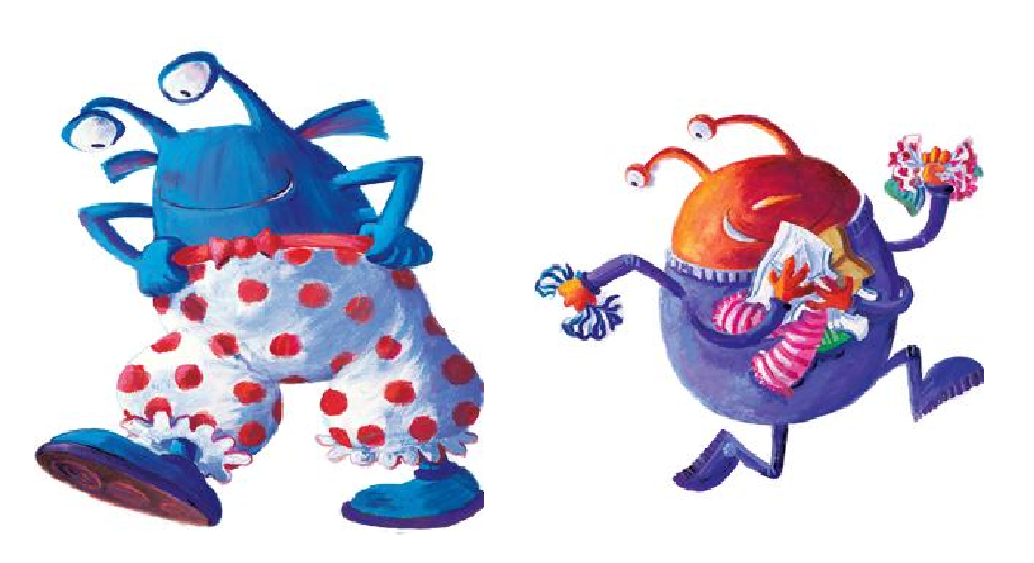 I have no idea how much time we have spent discussing the various details of the longed after underpants, but it probably adds up to a few hours! Maybe that tells me I should write a post on pants.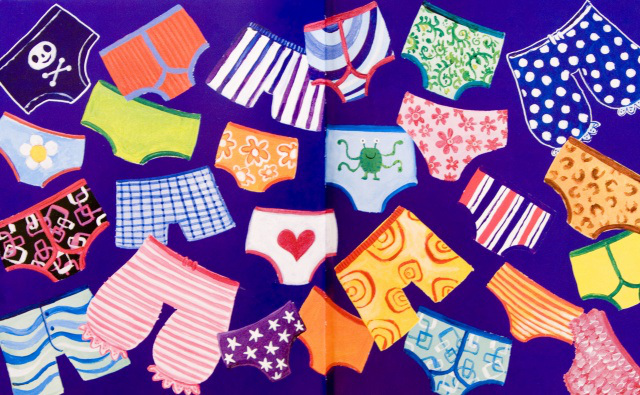 I know I said we'd do a top 5, but since limiting ourselves to five was really difficult, I've decided to add a little bonus title, last but not least of our recommendations: Toys in Space. We're big fans of Minnie Grey's Traction Man and Biscuit Bear, and this one is also a winner. So if you're curious, read a detailed review here.
Now if you want an alternative to our selection, check Steve Cole's Top 10 on the Guardian, or the awesome selection about spaceships made on the blog Orange Marmalade.
If you want a break from reading, but are happy to indulge your little space fanatic, try Orchard's Rocket game, perfect for kids from 2 to 4-5.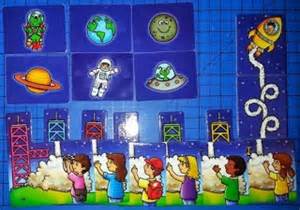 Finally, for a fun film night at home watch Moonman, the animated film based on Tomi Ungerer's brilliant book, who was one of my favourite authors as a kid!